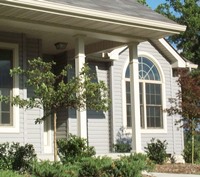 Your home's curb appeal is very important and is the first thing that a homebuyer sees when they come to see your home.
Realtors® rated exterior projects among the most valuable home improvement projects in the 2014 Remodeling Cost vs. Value Report.
Replacing old worn looking entry doors, garage doors, windows and siding can make a huge difference in your homes ultimate sale price. Make sure you hire a licensed contractor that will get all the required permits and do a professional job or you may be wasting your money.
Talk to a local Realtor who has a pulse on what's most important in your neighborhood before committing to any home improvement projects that are designed to increase the sales price and or reduce the time it will that to sell your home.