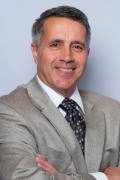 Bob started in the family real estate business in 1978 with his mother and founder of the company Sylvia Geist.
His responsibilities are running the day-to-day operations of the office, hiring and training new personnel. Bob also still allows time to personally assist his past clients with their current real estate needs.
Bob says, "Some people ask me why I still list and sell homes. My response is that I still very much enjoy working closely with people to help them achieve their home dreams. Also I need to keep in close touch with the real estate market itself in order to be able to advise my agents when they come to me for help. Just like everyone else, I need to keep learning and growing to keep the edge needed to be successful."
Bob has a very broad knowledge of the real estate industry and co-owns the company with his brother Chris.

Customer Testimonials
Bob is absolutely TOP NOTCH ! Extremely attentive and responsive. Andrew Carlowicz

Robert Geist and his staff were excellent throughout this transaction. I cannot say enough good things about them. The buyers made this a difficult sale to conclude: however, Robert did a job that was above and beyond greatness and the deal closed to my extremely high satisfaction. P. Goldbeck, CA

I would use Bob Again without a doudt. We recommend himto everyone. Mike & Nicole Notartomas, Edison NJ

Robert Geist and staff was extremely helpful throughout the process and I am very pleased with in my new home! Dawn V., East Brunswick NJ

I am writing this letter to you today, to extend my gratitude to you, for the fantastic service you provided to me in the sale of my property. You where there for me at every turn, helped me negotiate an excellent price and saved me literally tens of thousands of dollars!
My recommendation to anyone looking for a professional, courteous and knowledgeable Real Estate Agent in Middlesex County New Jersey - Look no further than Bob Geist and the Century 21 Sylvia Geist Agency Sales Team. There is no better. Thank you once again for all your help... Warmest regards, Bob Sinno, East Brunswick NJ

My agent did an excellent job handling my sale. We had a very picky buyer in a buyer market. Bob handled every issue with care. I'm sure my home sale would not have closed if it were not for the diligence of my listing agent. B. Sliwinski, East Brunswick NJ