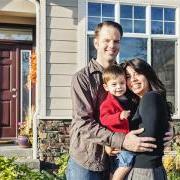 (BPT) - Don't give up on buying a home as winter nears. In fact, December through February may be better for buyers than the busy season in spring and summer.
Enjoy less competition and lower prices.
Fewer properties are typically available during the winter, as sellers and buyers aim to complete transactions before the school year begins. You can turn that to your advantage.
"In winter, there are fewer properties, but it's less competitive, with fewer buyers per property."
The more favorable supply-demand balance can lower prices. In the winter, "negotiations are slower-paced and there is more negotiating room." Also, winter sellers may be more motivated, especially if they're forced to sell by divorce or by corporate or military transfers.
In January and February, homes cost 8.45 percent less on average than in June through August, according to NerdWallet research conducted using Realtor.com data from 2014 and 2015. That's in line with what we see, particularly in competitive real estate markets where supply is limited.
Lower prices help at closing - and over the life of your mortgage.
A lower price eases your home purchase in many ways. It lowers your down payment, any closing costs that are calculated as a percentage of the home's sale price and your mortgage payments. There's also less of a seller's agent commission bundled into the sales price. These savings help when you buy, and they add up over the life of your mortgage.
The right agent can help.
When supply is limited, the right agent can help you get a jump on other buyers. Agents who are well connected learn about properties before they are listed.
The right agent understands the market where you are buying. That includes doing competitive market analysis so you understand what the house is worth. All our Realtors at CENTURY 21 Sylvia Geist Agency our fully training and equipped to handle your specific needs and requirements. Please contact one of our real estate professionals to help you purchase your dream home.
Many resources are available to help consumers find the right agent, including USAA Real Estate Rewards Network, a free program that gives members access to USAA's network of real estate agents and rewards when they buy or sell.