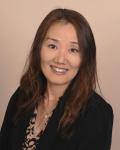 Kristine Lee grew up in South Korea and came to the United States as an exchange student. She graduated from Hofstra University on Long Island and obtained her CPA licenses from New York State and New Jersey State.
Kristine has been living in East Brunswick with her children almost for 18 years. She loves living in this friendly town with excellent school systems, shops, restaurants, cultural events, and beaches nearby. She also loves to venture into New Brunswick, NYC and Philadelphia on the weekends.
As a long time resident in Middlesex County and with more than 20 years of experiences in financial service industry, Kristine can put her insider knowledge to work and it's her absolute dedication and mission to provide her clients 100% commitment to meet their real estate goals.
Kristine represents Sellers and Buyers in real estate transactions with the latest technology, tools and resources that can help them make optimal real estate decision. She takes pride in servicing her clients by delivering exceptional service and establishing life-long relationships.
Authenticity and integrity, along with healthy lifestyle and positive attitudes, are her life philosophies that Kristine strives for both in personal and professional life. Thus, she's fond of Gandhi's quote, "My life is my message."
In her spare time, she enjoys spending time with her children and dogs, publishes her articles and blogs for Children's magazines, and volunteers for local pet adoption agency and cancer fundraising events.